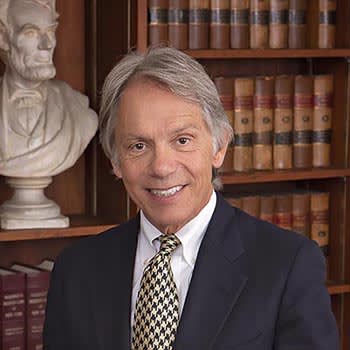 As a practicing physician for over 25 years who later became an attorney, John L. DeFazio, M.D., J.D. brings an in-depth medical expertise to the Law firm. At Viola, Cummings & Lindsay, Dr. DeFazio will devote his practice to the representation of catastrophically injured individuals and their families in matters primarily involving medical negligence.
Prior to graduating from the University at Buffalo Law School, Dr. DeFazio devoted his professional life to caring for patients. After graduating from Georgetown University, he earned his medical degree also at Georgetown University and trained in Obstetrics and Gynecology at Yale University School of Medicine. In addition, Dr. DeFazio completed a fellowship training in Reproductive Endocrinology at the University of California at Los Angeles. As a board-certified obstetrician-gynecologist and subspecialty-certified reproductive endocrinologist, Dr. DeFazio's medical practice focused on gynecologic surgery, care of pregnant and menopausal women, women with infertility, gynecologic cancers and other gynecologic disorders.
Dr. Defazio has obtained numerous trial verdicts and settlements in excess of $1,000,000.00 for victims of medical negligence in his legal career.
I believe wholeheartedly in holding negligent health care providers accountable and will work tirelessly to do so.
Bar Admissions
Education
J.D. - State University of New York at Buffalo School of Law

M.D. - Georgetown University School of Medicine

B.S. - Georgetown University